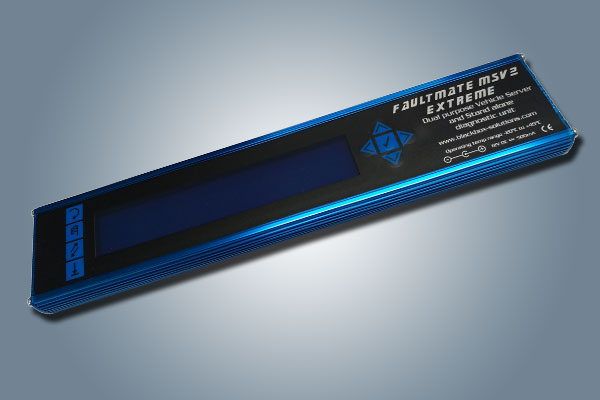 A smart electric blue anodized aluminum extrusion with Blue LED backlighting encapsulates the astounding technical brilliance of the all new FAULTMATE MSV-2 vehicle server which is the heart of the system. Using its own built-in flash storage capability, which is plenty big enough for any needs, the FAULTMATE MSV-2 diagnostic vehicle server cleverly utilizes a wide selection of ultra capable vehicle system dedicated, software modules to form an instant communication link between our easy to use Vehicle explorer browser software (included free of charge) and the vehicle system being diagnosed.

These individual software modules can be individually licensed for use in traditional Multiple Vehicle (MV) format (how diagnostic equipment is usually supplied) but uniquely, our FAULTMATE MSV systems can also be used to license a complete set of all the software modules relevant to one specific (by VIN) vehicle in Single Vehicle (SV) Mode. Naturally Single Vehicle licensing gives you the full awesome capabilities of each of the software modules at a massive reduction in the cost to cover a whole vehicle.

This even much lower cost licensing mode, coupled with the already low hardware costs and the buy only what you need way in which we offer our equipment means that there is simply no other system available anywhere that offers as much as the FAULTMATE MSV-2 or is more cost effective in respect of a way to fully cover every system on a private vehicle to such a degree.

As if this were not enough, this system is actually even more flexible, because the FAULTMATE MSV-2 Vehicle server is in fact a 3 in 1, That is like having three separate servers in respect of licensable IDs with each one of the three being usable for one single vehicle license or as many Multi Vehicle software module licenses as you wish.

The FAULTMATE MSV-2 Vehicle server is available with or without a built-in Vehicle Communications Interface and in two variants. The smallest and most inexpensive is the super tiny NANO variant, or you can opt for the awesomely advanced EXTREME variant, which does everything the NANO does but is augmented with its own Built-in Liquid Crystal text display, capable of displaying four lines of 40 characters each and a small menu navigation keypad that allows it to also be utilized as a stand alone diagnostic tool (No PC required) for Fault code Reading and Resetting.Note that this is not available on all vehicles/ECUs. Click Standalone Mode Vehicle ECU Coverage to download a printable Coverage List of the ECUs and Vehicles that are covered, in pdf format.