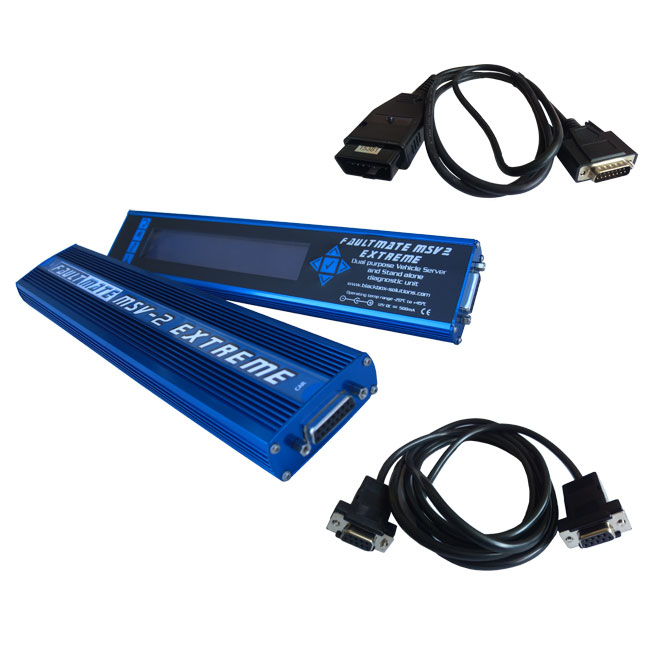 In this section you will find a range of Single Vehicle System Kits. These are all-in-one hardware and software solutions based on either a FAULTMATE MSV-2 NANO or a FAULTMATE MSV-2 EXTREME vehicle server.

Being single (By VIN) vehicle systems, these are our most popular products and typically cost much less than buying the same items from our hardware section that are included in this kit and then purchasing the applicable software modules to make an equivalent multi vehicle solution.

In respect of hardware, all these kits include the minimum hardware items selected from our FAULTMATE MSV-2 hardware section that would be required to connect from a standard PC / Laptop's serial port to the appropriate vehicle model. Of course additional hardware may also be purchased, see note at bottom.

In respect of Software, all these kits contain a Single Vehicle software license for the given model of vehicle. Details of exactly what vehicle systems will be covered and to what extent can be found within the more information page of each kit in the form of a downloadable PDF document.

Single Vehicle kits prefixed with SV1XX and SV2XX are available for most models of Land Rover vehicles and provide a level of access and capability in each vehicle system that is well known for being absolutely second to none.

Should any further accessories be required such as a USB to serial converter (as many new PCs do not have serial ports) power supplies, extension leads etc, these can be found in the accessories section along with a very attractively priced used Panasonic rugged laptops.